ABOUT US
WHAT THE HELL IS A "TAQUERO"?
Taquero: noun. (ta-care-ro) Someone who makes and sells tacos. Usually from a "taqueria" – An establishment that prepares and sells tacos and other Mexican Dishes. Originally, a taquería could only be a street vendor; however, today many taquerías are restaurants that occupy buildings. Example sentance: 'And unlike our large imposter Mexican chains, which impose one mediocre style nationwide, 'real' (that is, authentic Mexican) taquerías are spreading variety and quality throughout the land'.
OUR STORY
After eating our way around Latin America we plotted our entry into the world of street food from Australia. Settling in Bristol in 2014 we wanted to bring REAL Mexican and Central American food to the city. We are all about authentic street food, as close to the origin as possible. You won't find "fusion" and "Tex-Mex" here. After nine months converting our vintage van ourselves we were the first to launch a taco truck in Bristol and have enjoyed providing the most authentic, fresh and lovingly prepared Mexican Street food since May 2015.
OUR SUCCESS
Since we began we've been on the receiving end of some wonderful feedback from our Mexican and Central American customers. We succeeded providing those who have lived or travelled to the region a nostalgic taste and allowed those who have never tried authentic Mexican street food before have their first experience.
We were voted into the street food group "BEATS" in July 2015 and have been trading at the highest profile street food events in Bristol and the South West ever since. We have been honoured to cater at dozens of beautiful weddings and private parties including A-List celebrities. Buzzfeed named us the #1 Street food trader in Bristol, we were invited into the "Great food club", won September 2016 Fans choice award for food trucks UK, and we have been nominated for "Caterer of the Year" (NOEA) and "Best Food Truck UK" (Fan's choice). We were also listed as Bristol's #1 street food trader by Buzzfeed and Wanderlust. Most recently we have been shortlisted as a finalist in the 2017 Crumbs Food Trader category.
OUR VISION
The vision behind 'the little taquero' is to bring the South West an authentic, mouth-tingling taste of Mexico and Central America. We don't just stop at food however. At our pop-up food truck, mobile restaurant, guerrilla catering van or whatever you choose to call us, we encourage you to stop and eat with us. Grab a seat, rest those weary feet, listen to some funky Latino tunes, share travel stories and test your chilli tolerance – dining in Mexico and Central America is a communal experience and we want to share that with you!
---
A YEAR IN CENTRAL AMERICA
RESEARCH AND DEVELOPMENT
We spent a huge amount of time travelling through the Central American region. From climbing Mayan ruins to surfing the Mexican pipeline and from sipping coffee in a Colombian coffee plantation to getting lost in the streets of Havana, there are not too many areas left unexplored. One of our absolute top travelling pastimes has to be sampling the food and drink, and street food is where we believe you'll find the best a country has to offer. We've lived with, cooked with, and eaten with, the locals and we think the recipes they've taught us shouldn't be messed with or "westernised". Without these amazing experiences, our tacos wouldn't be as authentic and tasty as they are today.
We spent the best part of a year converting "Emilio" (our 1978 Renault Estafette van) into a mobile taco truck. You can check out Emilio's transformation in our gallery. Keep up to date with our whereabouts by "liking" us on Facebook or "following" us on Twitter.
We very much look forward to seeing you all in the not too distant future!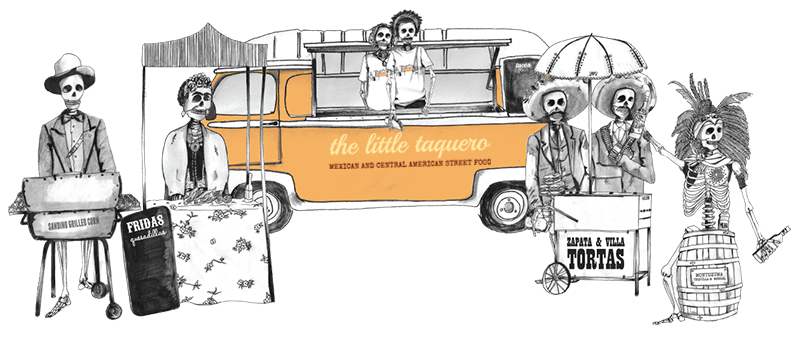 HOT SAUCE
Like hot sauce?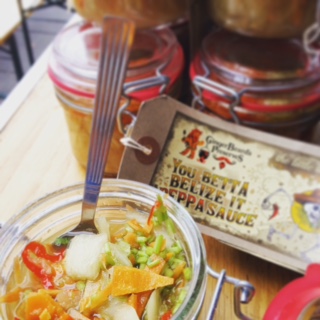 Introducing "You Betta Belize it Peppa Sauce". Fresh, Sharp and spicy flavours bringing zing to all Latin American dishes.